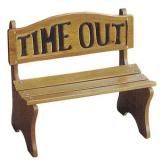 Timeouts and other traditional discipline methods have been proven to work with many children, but not all. It took me 3 years & 8 months to come to this conclusion. Unfortunately my middle daughter Leah, was the one to suffer and endure my ignorance on discipline.
My wake up call was when we first filled out a BASC-2 form and the results came back stating my 3 year old daughter was Clinically Depressed with High Anxiety, and a recommendation for therapy.
I came to the realization that she was depressed because of me. I was constantly putting her in time outs, telling her that what she was doing was wrong, and telling her how bad she was. I am ashamed to admit this, but on occasion she was spanked, fingers flicked, etc… The above "traditional discipline" methods were being used all the time at home. We were at a complete loss on what to do with her. Nothing worked, adding to our frustrations and tension in the house. It was essentially a downward spiral that I knew we needed to get out of. I sought out help from professionals going against my pediatricians claims that she is just "active." In May 2010, I finally became an advocate for my daughter.
One of the things I have learned from the various professionals we have worked with; is that timeouts and traditional discipline  do not and will not work for my daughter. We no longer give her time outs, with the exception of hitting.  Instead we have become detectives at home and have really tried to figure out what she is trying to tell us when she does the things she does.
We have discovered that many of the things she was getting in trouble for were things she was doing to try and fulfill one of her sensory needs. Since her diagnosis with SPD, we have learned how to figure out what she is trying to tell us she needs. Now instead of yelling at her and putting her in time out for rubbing an entire bottle of toothpaste on her body, we give lotion massages or shaving cream showers.
For angry outbursts and frustrations, her special needs preschool uses the "tucker turtle technique" and has taught us how to use it at home. The idea behind it is to teach young kids coping strategies on how to handle their anger and frustrations. It has been a long process that requires repetition and doesn't "fix" things overnight but, we are seeing results from it. She is starting to apply the technique herself in situations and the time it takes her to calm down is getting less and less.
We also use lots and lots of positive reinforcement and try to find things to praise her with all the time. In order to motivate the kids, we started using a token system at home for cooperation and helping out around the house.
With all our new techniques and the old "traditional" discipline thrown out the window our home is by far not perfect, but  is starting to be a much happier place to be.
*****
EDITOR'S NOTE:  If you have found that the traditional methods of parenting aren't working for you and your child, try using Collaborative Problem Solving from Dr. Ross Greene.   ~ Hartley