Friday, May 13, 2011 I will always consider one of the best days ever. It was our "Day of Deliverance"; Roan's official clinical diagnosis of Autism Spectrum Disorder (ASD). It was a GREAT day in every way!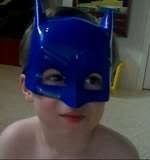 I woke up in the morning feeling nervous, anxious, excited and just hoping for a cooperative day with Roan. He woke up and I could tell it would be a good day. He was in a fabulous mood and cooperating in every way.
We headed to Children's hospital early in the morning for his half day of developmental and psychological testing. Roan walked directly into the psychologist office and said, "Hi – I Roan and this is my mommy!" with an emphasis and cuteness like no other. He sat right down and put his little hand on the side of his face and appeared that he understood what was about to happen. The doctor and I talked about the process and then she quickly began to maximize Roan's mood. He was a trooper in every way for the entire duration of the tests. It was if he knew in his mind that he was accepted and he was going to show her he could "do it". Very focused, emphatic, a bit fidgeting and a few preludes to and from the stairs for jumping he accomplished three hours of comprehensive testing and play.
We went out and took a break for about 30 minutes and then came back into see the doctor. He was then getting ready to go home, however we made it through the most important discussion of our lives and the portion where they diagnosed Roan with Autism Spectrum Disorder (ASD).
Everything in my mind was clicking at this point and a huge exhale occurred. A breath of relief, hope, happiness, and overall relaxation as a mom. I knew there was something more going on with Roan in addition to Sensory Processing Disorder (SPD).
My mommy intuition was spot on.
I could now truthfully know I'm not "crazy" or it's not a "three year old thing". He has a disorder that will now be recognized and we can move forward with gaining the services and support he needs. One door shut and a new door opened!
To our family this means……

• We can now move forward with his IEP and gain special education services without hearing "SPD doesn't exist because it's not in the DSM and we don't supply services to kids having challenges with sensory issues".
• We now have full validation of what we thought he was having challenges with (auditory & sensory processing challenges, developmental delays, pragmatic speech concerns and motor planning coordination issues) supported by a doctor that has been in the field for over two decades.
• I can now appeal claims for the fourth time with our insurance company with some success and try for retribution of the thousands of dollars in claims they didn't pay for because he was "developmentally delayed'.
• Per recommendations made by the doctor he should gain full-time special pre-school education with a high degree of success for him going into Kindergarten in two years "ready" to learn.
• We will receive amazing support from Children's Hospital and the ASD community. This means other special needs parents to share advice, techniques and meet with experiencing our same challenges.
• We can modify his current occupational therapy plan and sensory diet to accommodate his "real needs" and not just guesses.
My view into Roan's world has now changed and I feel like I'm sitting beside him now on this new journey. Yesterday was a great day. I'll always feel like this was the day Roan was re-born and delivered into the world right side up instead of upside down.
May, 13 2011 was our "Day of Deliverance"!